We have many tried and tested tips when it comes to moving home, but only one steadfast rule: we don't take bookings until the exchange of contracts. 
You're welcome to contact us for a quote or to tell us about your move ahead of this time and we'll know to expect it around a certain date, but we never finalise a booking until completion date is confirmed. 
Like your valuable belongings, this is a principle we always ensure we don't bend or break, and for good reason: regardless of how organised you might be, any number of dilemmas can be dredged up in the final stretch of securing your new home. Until the exchange of contracts, house sales do frequently get held up at the last minute.
What's the hold-up?
Most of the time when we tell people this, they push back a little – after all, in an ideal world it would be better for everyone if you could get us booked well in advance.
The reason we refuse is because it protects you from paying for our team to turn up on a day nothing can happen and you're still waiting for the keys, probably because of something that's completely out of your control.
The bigger the chain, the bigger the risk of a delay, but problems can pop up anywhere. Whether it's a lawyer on a lunch break, a niggling question or – worst case scenario – someone has pulled out, hold-ups do happen and they can rarely be predicted or avoided.
Moving house can be a waiting game
We're careful to only take bookings once you've exchanged contracts – meaning that your move is definite and your completion date is confirmed. We're happy to make initial commitments if you have a rough date in mind and you're of course welcome to get in touch to discuss your options.
This rule extends to absolutely everyone, so please don't think we're singling you out if you're eager to diarise a date and get Ballards on your books before then. We've been in business for over 40 years so trust us when we say that this is the best option for all parties. 
The only exception is if you'd like a house cleared and your belongings put into storage ahead of a move. But, even then, we won't book an appointment to move your things out of storage and into your new property until it's all confirmed.
It's easy to get ahead of yourself in the run-up to the big day, but mindfulness and mitigation is always preferable to mayhem! Until you've got those contracts firmly in your grasp, your preferred move date is just that: a preference. It isn't set in stone.
Really, there should be more of an emphasis from estate agents and solicitors to manage expectations in this regard – but with so many processes whirring away at once, it's understandable that hand-holding can only go so far. 
Because everything goes through estate agents and solicitors, it's also easy to feel isolated or out of the loop when it comes to communicating with all the parties involved in organising your house move. Often, there can be lots going on that you're not aware of, problems can crop up like weeds and some things just take a long time to get sorted.
Completion date confirmed
Finally, when you get the call from your solicitor letting you exchange contracts and get your completion date, it's time to pounce.
Completion date could be anywhere from one day to a few weeks from this point, but that should still be time to give us a call and get us booked.
This is another important reason why we don't book ahead of this point; we don't want to be booked in with a client whose move isn't going ahead when they expected and having to turn away people who are ready to move. We need to be ready to move you quickly when the time is right
If you're in the process of buying a house, please contact us to get a quote and tell us about your move – it will help us plan ahead for when the time comes and we can make sure you get the best service for your needs. But please understand that we won't be able to book you in until you have a confirmed date.
To find out more about how we can help you, give us a call on 01777 871 871, or get in touch via our web form.
Moving in on completion day
Download your free guide to managing your move
Completion day is a really exciting day, when everything suddenly happens. 
If you're in a chain, you'll often only have a few hours to get all your goods 'on wheels', out of your old home and en route to your new one, leaving the buyer of your property a clean and empty home to move into.
This is another point where things can get held up quite easily by things such as another owner in the chain not having moved out in time, needing to pop back to their old place or making multiple journeys to transfer their valuables. If someone isn't as prepared as they should be, it can cause delays for everyone further down the chain.
There are so many moving parts in play when it comes to relocating and even the smallest, most inconsequential thing can throw a spanner into the works. It's for this very reason that we've put together a handy guide outlining all the essentials for your move – and the timescales you can expect to encounter them in.
Simply click here to explore our seven simple steps to minimise moving day stress. It's completely free and it's packed full of tips and tricks to make sure that your move hits as few bumps in the road as possible.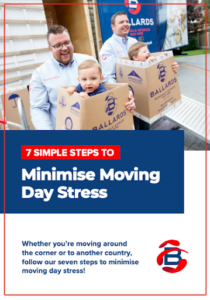 Completion date is a perfect time to have your new home professionally cleaned before your property arrives, and we'd be happy to help you with this. We can also clean out your old property and put things into storage for you. Or, if you just want to be in and settled as quickly as possible, we can just help you with the move itself.
Let us shift the stress from your home move. Get in touch and let us shoulder the burden of all that baggage.